August 26th, 2007
ट्यालेन्ट हण्टको शीर्ष उपाधि सुस्मितालाई, अगष्ट २६ -
यस वर्षको ट्यालेन्ट हण्टको शीर्ष उपाधि भैरहवाकी १९ वर्षीया सुस्मिता गुरुङले जितेकी छिन्। आठ प्रतिस्पर्धीहरुलाई पछाडि पार्दै उनले सो उपाधि हासिल गरेकी हुन्। प्रतियोगितामा पोखराकी १८ वर्षीया सुनिता गुरुङ फस्ट रनरअप र धरानकी १८ वर्षीया नताशा श्रेष्ठ सेकेन्ड रनरअप भएका छन्।
Talent Hunt 2007 -August 26 (Video Clip Part 1)
Talent Hunt 2007 -August 26 (Video Clip Part 2)
Talent Hunt 2007 - August 26 (Video Clip Part 1)

Talent Hunt 2007 - August 26 (Video Clip Part 2)

नताशा श्रेष्ठ (सेकेन्ड रनरअप), सुस्मिता गुरूङ (ट्यालेन्ट हण्ट शीर्ष उपाधि विजयी) र सुनिता गुरूङ (फस्ट रनरअप)। थप तस्विरहरू हेर्न यहाँ क्लिक गर्नुहोस्। तस्विरहरू एचकेनेपाल डट कमका लागि जगत अम्बु गुरूङ, प्रार्थना गुरूङ र राजिव राई।
Click here to view Talent Hunt 2007 Photo Gallery

अंग्रेजी र क्यान्टोनिज भाषामा निर्धक्क बोल्न सक्ने सुस्मिता गुरूङ ६ वर्ष अघि हङकङ छिरेकी हुन्। ११ वर्षको उमेरमा भैरहवा लिटल लेडी कन्टेस्टको शीर्ष उपाधि समेत जितेकी बहुप्रतिभाशाली सुस्मिता गुरूङ समाजसेवाप्रति उत्तिकै रूची राख्छिन्।


सुस्मिता गुरूङ
डेलिया मेमोरियल स्कूल हिप वोमा कार्यरत सुस्मिता दोभाषे पेशामा समेत कार्यरत छिन्। डेलिया मेमोरियल स्कूल हिप वोबाट फर्म फाइभ (एसएलसी सरह) को परीक्षामा उतीर्ण गर्ने पहिलो चार नेपाली विधार्थीमध्ये एक सुस्मिताले सोही विद्दालयबाट फर्म सेभेन (ए लेभल ग्र्याजुएट) उतीर्ण गरेकी छिन्। भूख्य भूमि चीनबाट हङकङ आएका चिनीयाँ गृहणीहरूलाई अंग्रेजी भाषा सिकाउनेदेखि लिएर नेपाली, पाकिस्तानी र चिनीयाँ बालबालिकालाई नृत्य सिकाउने प्रशिक्षक पनि हुन् सुस्मिता। हङकङस्थित एक सामाजिक केन्द्रमा सुपरभाइजर रूपमा कार्यरत सुस्मिता हङकङबाट सञ्चालित नेपाली रेडियो "नेपाल दर्शन" मा सहायक निर्देशक भएर काम गरिसकेकी छिन्।
हङकङमा रहेका बौद्घ धर्मप्रति आस्थावान ताइवानी समूहसंग मिलेर शान्तिका अग्रदूत गौतम बुद्घको सन्देश तथा उपदेश फैलाउदै आइरहेकी सुस्मिता गुरूङले आगामी सेप्टेम्बर १ देखि १० तारिखसम्म नेपालका विभिन्न शहरहरू काठमाडौं, लुम्बिनी र पोखरामा सञ्चालन हुन गैरहेको १० दिने धार्मिक बैठकमा उनले बुद्घ धर्मको विषयमा कार्यपत्र प्रस्तुत गर्ने भएकी छिन्। हङकङ र ताइवानको प्रतिनिधि भएर सो बैठकमा सहभागी हुने सुस्मिता गुरूङले बताइन्।

सुनिता गुरूङ
प्रतियोगितामा पोखराकी १८ वर्षीया सुनिता गुरुङ फस्ट रनरअप भएकी छिन्। बीबीएस पहिलो वर्षको अध्ययन छोडेर १ वर्षअघि हङकङ छिरेकी सुनिता गुरूङले प्रतियोगिताको प्रिजजिङको समय उत्कृष्ट नृत्य प्रस्तुत गरेकी थिइन्। आत्मविश्वासका साथ आफूलाई प्रस्तुत गर्न सक्ने क्षमता भएकी सुनिता गुरूङ समाजसेवा गर्न मन पराउंने बताउंछिन्। 'पहिले म आफ्नो अध्ययनलाई निरन्तरता दिन चाहन्छु। अलिकति पैसा जम्मा गरेर अध्ययनलाई अगाडि बढाउंछु' सुनिताले हाँस्दै भनिन्।

नताशा श्रेष्ठ
प्रतियोगितामा धरानकी १८ वर्षीया नताशा श्रेष्ठ सेकेन्ड रनरअप भएकी छन्। उनले मिस क्याटवाक र मिस बेस्ट ड्रेस गरी दुई उपाधिसमेत जितेकी छिन्। टेन प्लस टुको अध्ययन सकेर ३ महिनाअघि मात्र हङकङ छिरेकी नताशा श्रेष्ठ प्रतियोगीतामा अन्य प्रतिस्पर्धीहरूको तुलनामा बढी उपाधि जित्ने विजेता हुन्।
त्यसै गरी मिस फोटो जेनिक सन्दीपा थापा धरान, मिस बेस्ट फिगर अञ्जुसिंह थापा बुटवल, मिस पर्सनाल्टी रीया राई संखुवासभा र एचकेनेपाल डट कममा सर्वाधिक मत प्राप्त गरेर शोभा घले चितवनले मिस भ्युवर च्वाइस उपाधि प्राप्त गरेका छन्।
प्रतिस्पर्धीहरूको परिचय राउण्ड, परफरमेन्स, प्रश्नोत्तर राउण्ड, प्रिजजिङ राउण्डको आधारमा सुस्मिता गुरूङ, सुनिता गुरूङ, नताशा श्रेष्ठ, अञ्जुसिंह थापा र सोफिया राई टप फाइभमा परेका थिए।
कार्यक्रममा स्थानीय नेपाली गायक कलाकारहरूले गीत तथा नृत्य प्रस्तुत गरेका थिए भने हङकङमा रहेर नेपाली गीत संगीतको क्षेत्रमा निरन्तर योगदान गर्दै आएका संगीतकार दिनेश सुब्बालाई आयोजक संस्था ड्रिम्स अनलिमिटेडद्वारा सम्मान पत्र प्रदान गरिएको थियो।
प्रतियोगीताको प्रिजजिङ र मूख्य कार्यक्रममा एचकेनेपाल डट कमका संयोजक तथा प्रधानसम्पादक पशन तमू प्रमुख निर्णायक, ड्रागन एयरकी इन्फ्ल्याइड सर्भिज म्यानेजर अरूणा गुरूङ र लामो समयदेखि अल्पसंख्यक जाति (खास गरी नेपाली समुदाय) को पक्षमा काम गर्दै आएकी चिनीयाँ युवती शिर्लिङ यिप निर्णायक जज रहेका थिए।
ट्यालेन्ट हण्टको शीर्ष उपाधि विजयी सुस्मिता गुरूङ, फस्ट रनरअप सुनिता गुरूङ र सेकेण्ड रनरअप नताशा श्रेष्ठलाई गत सालका विजयीहरू क्रमशः बसन्ती पुन, सब्रिना श्रेष्ठ र एलिना घलेले ताज पहिराइ दिएका थिए।
हङकङ नेपाली रंगमञ्चकी लोकप्रिय उद्घोषिका लक्ष्मी थापा राईको संयोजनमा सम्पन्न ट्यालेन्ट हण्टको कोरियाग्राफी मिस हङकङ नेपाल २००० - ममिता गुरूङ र पूर्वाञ्चल टप मेल मोडल तथा मिस्टर धरान फस्ट रनर अप १९९७ - तारा सुब्बाको रहेको थियो भने कार्यक्रम सञ्चालन देवराज राई र क्रिस्टिना गुरूङको रहेको थियो। कार्यक्रममा पुरूष मोडलहरूसमेत सहभागिता रहेको थियो।
ड्रिम्स अनलिमिटेड हङकङको आयोजनामा याउ मा तेइस्थित हेनरी जी लियोङ कम्युनिटीहलमा अगष्ट २६ आइतबार साँझ सम्पन्न ट्यालेन्ट हण्ट २००७ प्रतियोगिताको प्रायोजक न्यु वर्ल्ड टेलिकम रहेको थियो भने अफिसियल मिडीया पार्टनरको रूपमा लोकप्रिय तथा हङकङको पहिलो नेपाली इन्टरनेट पत्रिका एचकेनेपाल डट कम रहेको थियो।
Talent Hunt News in other media:
Sushmita wows Hong Kong to become Miss Talent Hunt - (The Kathmandu Post)
हङकङमा मोडल कन्टेस्टको रन्को - (Saptahik -Nepali National Weekly)
……………………………………………………………………..
बहुचर्चित ट्यालेन्ट हण्टको प्रि-जजिङ, अगष्ट १९ -
बहुचर्चित ट्यालेन्ट हण्ट मेघा कन्टेस्टको प्रिजजिङ आइतबार हङकङको जोर्डनस्थित कुन चुङ स्पोर्ट सेन्टरमा सम्पन्न भएको छ। प्रि-जजिङका लागि पशन तमू , अरुणा गुरुङ र शिर्लेन यीप तीन सदस्यीय निर्णायक टोलीले प्रतियोगीहरुको पहिरन तथा प्रतिभाहरुमाथि मूल्याङ्कन गरी आयोजकलाई बुझाएका छन्।
Talent Hunt Pre-Judging Video update:
Click here to view Talent Photo Gallery
ट्यालेन्ट हण्टमा नौ प्रतियोगीहरु छनोट, अगष्ट १२ -
अगष्ट २६ मा आयोजना हुने ट्यालेन्ट हण्टको भव्य तयारी भै रहेको छ। ट्यालेन्ट हण्टमा दर्जनौले आफ्ना नाम दर्ता गराईए पनि नौ जना प्रतियोगीहरु मात्र प्रारम्भिक छनोटमा परेका छन्।

छनोटमा परेका प्रतियोगीहरुमा माथिबाट क्रमशः
रिया राई - संखुवासभा, सन्दीपा थापा - धरान, पूजा कंडेल - बाग्लुङ,
सुनिता गुरुङ - पोखरा, शोभा घले - चितवन, सुस्मिता गुरूङ - भैरहवा,
अञ्जुसिंह थापा - बुटवल, सोफिया राई - संखुवासभा, नताशा श्रेष्ठ - धरान
छनोटमा परेका प्रतियोगीहरुलाई प्रशिक्षण दिने काम भै रहेको छ।
Watch Video:

MISS VIEWER CHOICE Award:-
Vote closing date & time: Aug 25 2007 06:04 AM EDT.
यस वर्षदेखि नयाँ शीर्षकको उपाधि "MISS VIEWER CHOICE" टाइटल थपिएको हुनाले आफूलाई राम्रो लागेको सहभागीलाई भोट दिई सहयोग गर्नुहोस्। भोटको लागि दायाँ साइडबारमा राखिएको तस्विर तथा नाम छनोट गरी भोट हाल्न सकिने छ। एक जनाले एक पटक कम्तीमा तीन जनालाई भोट हाल्न सकिने छ। सबैभन्दा बढी भोट (प्रतिशतको आधारमा) प्राप्त गर्ने प्रतियोगीले MISS VIEWER CHOICE Award / उपाधि प्राप्त गर्ने छन्। हामीले प्रतियोगीहरूका तस्विर तथा भिडीयो क्रमशः अपडेट गर्दै जाने छौं। प्रतिक्षा गर्नुहोस्…
(एचकेनेपाल डट कम अफिसियल मिडीया पार्टनर)
Click here to view Talent Hunt 2007 Photo Gallery

एचकेनेपाल डट कम, जुलाई २० -
आफ्ना प्रतिभा देखाउन चाहने युवायुवतीहरुका लागि प्लेट फर्मको रुपमा विकसित हुंदै गएको ट्यालेण्ट हण्ट मेघा मोडल कन्टेस्ट को तेश्रो संस्करण आगामी अगष्ट २६ तारिख याउ मा तेइस्थित कम्युनिटी हलमा आयोजना हुने भएको छ।
विगत दुई वर्षदेखि ड्रिम्स अनलिमिटेडले आयोजना गर्दै आएको यस प्रतियोगिताले आवरणीय सौन्दर्य नभै अन्तर्मूखी बौद्धिक प्रतिभालाई प्राथमिकता दिंदै आएको छ। विगतका दुई प्रतियोगिता मे महिनामा आयोजना भएका भए पनि यस वर्षदेखि अगष्ट महिनामा आयोजना गरिने आयोजकले बताएका छन्।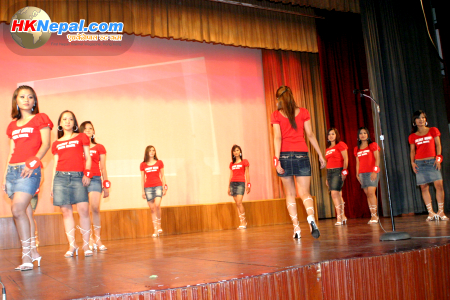 ट्यालेन्ट हण्ट 2006 का सहभागीहरू (फाइल तस्विर) एचकेनेपाल डट कम।
अगष्ट महिनामा यहाँका युवायुवतीहरु बढी फुर्सदीला हुने भएकाले अगष्टलाई रोजेका हौं। आयोजक तथा कोरियोग्राफर ममिता गुरुङले भनिन्। यो समय अक्सर विद्यार्थीहरु परीक्षा सकेर बस्ने हुनाले प्रतियोगितामा सहभागी हुन चाहनेलाई समयको सदुपयोग गर्ने अवसर पाउंछन्। ममिता गुरुङका अनुसार विगतका प्रतियोगिताहरुमा सहभागीहरु ट्यालेण्ट हण्टको तयारी र उता परीक्षाको तयारी एकै चोटी गर्नु पर्दा समस्या परेको थियो। समय मिलाउन नसक्दा केही प्रतियोगीहरुले ट्यालेन्ट हण्टको लागि प्रशिक्षण लिएर पनि अन्तिम चरणमा प्रतियोगितामा सहभागी हुन सकेका थिएनन्।

बायाँबाट क्रमशः लक्ष्मी थापा राई, ममिता गुरूङ र तारा सुब्बा। Click here to view more pictures
हङकङका नेपाली रंगमञ्चकी सफल उद्घोषिका - लक्ष्मी थापा राईको संयोजन, मिस हङकङ नेपाल २००० - ममिता गुरूङ र पूर्वाञ्चल टप मेल मोडल तथा मिस्टर धरान फस्ट रनर अप १९९७ - तारा सुब्बाको कोरियोग्राफीमा आयोजना हुन लागेको ट्यालेण्ट हन्ट २००७ को लागि थप अपडेटसहित हामी पुन उपस्थित हुने छौं -अहिलेलाई तपाईका कुनै सुझाब, जिज्ञासा तथा प्रतिक्रिया भए तलको कमेन्ट बक्समा पोष्ट गर्नुहोला।
(एचकेनेपाल डट कम अफिसियल मिडीया पार्टनर)
Message from Event Coordinator:-
Dear All
About Talent Hunt
Living in Hong Kong, a well known of its modern, social infrastructure, excellent global trading & flourish of cultural lifestyle. For the last few years, I did get to meet quite number of innovative plus energetic people, thus, inspired by a handful & dedicated friends, the idea behind 'Talent Hunt' was conceived in 2005.
Above and beyond, the excitement of being a part of such a wonderful people & momentous event like 'Talent-Hunt' is searching and encouraging young talents to blend their skills, we are truly trying to make a difference as we believe, it's the one chance through the event- 'interaction & integration' so, here we are with very much enthusiastic to make the conceive come to the concrete.
I must say
Using the ramp for this youth as our primary platform to reach out to the general youth but there is lots of imperceptible process to blend the skills to search true talent all the way through appraisal. We also aim to be a one-stop 'bridge' to helping these youth to our extensive coverage to the community and we are constantly evolving to capture the excitement and diversity of Talent Hunt.

Last year we have successfully launched the Talent Hunt – 2005 on 8 th May in Yau Ma Tei Community Hall. In this our little efforts, Talent Hunt we launched its 2nd year in
on 7th May 2006 at Caritas Community Centre, Prince Edward. Now, here we are again for 3 rd year in Yau Ma Tei Community Hall, Yaumatei, Kowloon with musical moments that will be blaze out the evening sharp 7:30 to till the announcement of most awaiting result. Please come and be a part of this exclusive event – Talent Hunt 2007.
I must enclose
Organizing an event is always hard work after sorting out participants, lighting, sound system, venue, sponsors, ticket printing and sales- the hardest part remains: informing the right people and getting them to come but its not that much hard if we can being able share the ideas as we realized that there was this sudden surge in demand of people thus, please share us your idea, post the comment that's we really need to keep our spirit on for this event.
I am sure all you are eager to know more about our event so, please log on our Media Partner: www.hknepal.com for updated news.
Yours truly,
RAI, Laxmi
Event Coordinator
TALENT HUNT 2007
Talent Hunt 2007 Mega Model Contest (26 August 2007)
Be a part of this exclusive event of year!!!
Participation
Contestants will need to submit their entry form by the deadline 31st July 2007, for validation and processing. No contestants will be accepted after the deadline, -for more details please contact us:
Laxmi Thapa Rai: 6680 2475
Mamita Gurung: 9201 2416
Tara Subba: 9771 3045
E-mail: dreamz.talenthunt@gmail.com
Popularity: 34%
Entry Filed under: हङकङको समाचार